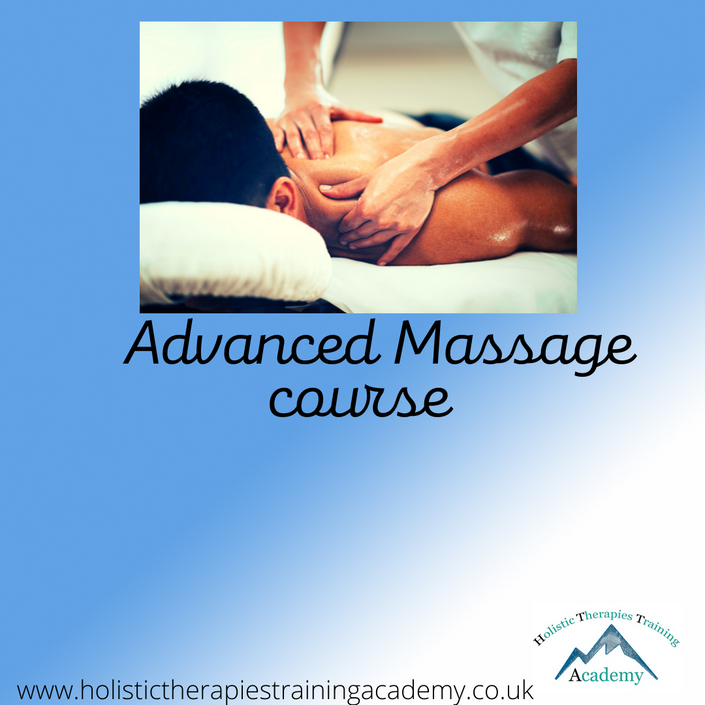 (Advanced Massage) 2 day accredited course
2 day practical attendance course. 3 FREE online courses with this course bundle (Health & Safety, A&P and Listening skills)
Pay by credit/debit card
Course available at the venues below:

Venues:

Course Dates:(2 Days)

New dates coming soon for Sept '23



Description:
In this advanced massage course, you will build upon previous knowledge, skills and experience of massage therapy, with particular focus on using additional assessment techniques and advanced massage skills to address dysfunctional tissue, derived from lifestyle, posture and the general aging process.
This course will introduce the relevant skills, knowledge and understanding needed to gather and analyse information elicited during subjective and objective client assessments.
This will include exploration of the factors that may predispose clients to imbalance and dysfunction and how factors may influence the client's ability or willingness to rebalance and reasons for referral/deferral. A number of objective assessment techniques are introduced to include detailed assessment of soft tissue and muscle testing. To underpin the new range of objective tests, the bony and soft structures of the major joints of the body are revisited to give you a greater anatomical understanding and to facilitate practical application.
You will also evaluate the range of objective testing as to the appropriateness and value of the information they elicit. You will be able to utilise your new toolbox of skills and understanding to tailor your massage treatments to your individual client needs to promote restoration of dysfunctional tissue, health, balance and wellbeing. Massage techniques you will cover include trigger points, Muscle energy techniques, connective tissue and Soft tissue release.
Advanced Massage Accredited Diploma
Pre-requisites (entry level):
A Body Massage qualification and Anatomy & Physiology qualification
Course format:
2 day practical + home study + case studies. Training material is accessed through our online portal
Course content:
Advanced Massage
Health & Safety for therapists online course - FREE
Listening skills for therapists online course - FREE
Anatomy & Physiology online course - FREE
Attendance:
2 day practical session
Duration:
The home study can be started at anytime, please ask for available course dates.
Model Required?:
Group training = No, students will work on each other.
One to one training = Yes, you will be required to bring a model along to the practical
training to practice your routine on.
Case studies = Yes, you will be required to work on models for your case studies.
Case studies:
You are required to complete 6 treatments as case studies (3 upper body & 3 lower body).
Accreditation body:
* ABT - Associated Beauty Therapists
* PBD - Professional Beauty Direct
* IPHM - International Practitioners of Holistic Medicine
An accredited certificate emailed to you on successful completion of the course.
Career Opportunities:
Self-Employed massage therapist working from home, salon, Spa or Mobile.
Additional Costs:
You will need to purchase your own products and equipment in order to carry out your case studies and practice your skills.
We also recommend you purchase a text book to support your learning. For our recommended reading list, Sign up to our FREE student and therapist resources section --
https://holistic-therapies-training.teachable.com/p/student-resources-free
Qualification gained:
Advanced Massage Practitioner Diploma
Insurance:
Please check your insurance companies requirements before enrolling on this course? (It is the students responsibility to check coverage with their insurers BEFORE enrolling on this course)
If you are looking for insurance, click here for some insurance companies
- https://holistic-therapies-training.teachable.com/p/accreditation
Payment Options
If you prefer to pay by bank transfer, PayPal or PayPal credit, here are the details
Please note, if you choose either of these methods, your booking will be processed manually, and can take up to 24 hours to receive access to your training pack.
Your Instructor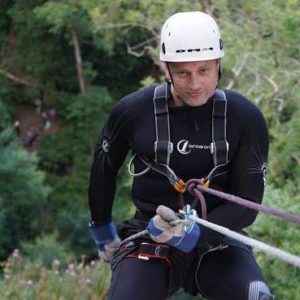 Jason is a fully qualified holistic therapist, Sports Therapist and teacher. He has many therapies 'under his belt' and is very passionate about his work. He comes from a martial art background of 33 years and is the holder of 4 Black belts. And loves adventure and enjoying life. He recently had to give up Teaching martial arts through an Injury, and restarted his holistic Massage path from years ago, Like all our tutors he believes that all our students should have the best training available, and with his background of Martial arts he is dedicated in doing this.
Jason is qualified in and teaches the following therapies:
Level 3 Sports Masssage
Level 4 Sports Therapy
Level 3 Invigilating Exams
Level 3 Nutrition and Diet
Level 3 Education and Training
Level 3 Beauty Therapy Studies
Level 3 Beauty Therapy General (body/Face Electrics, Body/Face Massage, electrical epilation)
Level 3 Swedish Massage
Level 3 Hot Stones
Level 3 Personal Training
Level 3 Assessor
Level 3 Complementary Therapies
Level 3 Emergency First Aid at Work
Level 4 IQA
Deep Tissue
Warm Bamboo
Chinese Massage
Pregnancy Massage
Preventing Injuries in Sports
Taping and Strapping
Thermal Auricular Therapy
Acupressure
Indian Head Massage
Makeup Treatment (Body Art, Photographic and Media, Airbrush, Camouflage,SFX)
Spray Tanning
Providing Therapies With Cancer and Other Life Limiting Conditions
Lymphatic Drainage Massage
Reflexology
Aromatherapy
Kettlenetics
Being a martial arts practitioner for over 34 years and an Instructor for 13 years holding 3 Black Belts in 3 disciplines, it is nice to actually help treat people rather than teaching someone to defend, or fight.
" I love teaching, and seeing whether its a fresh student or experienced one, learning new techniques and progressing their knowledge in helping others.'